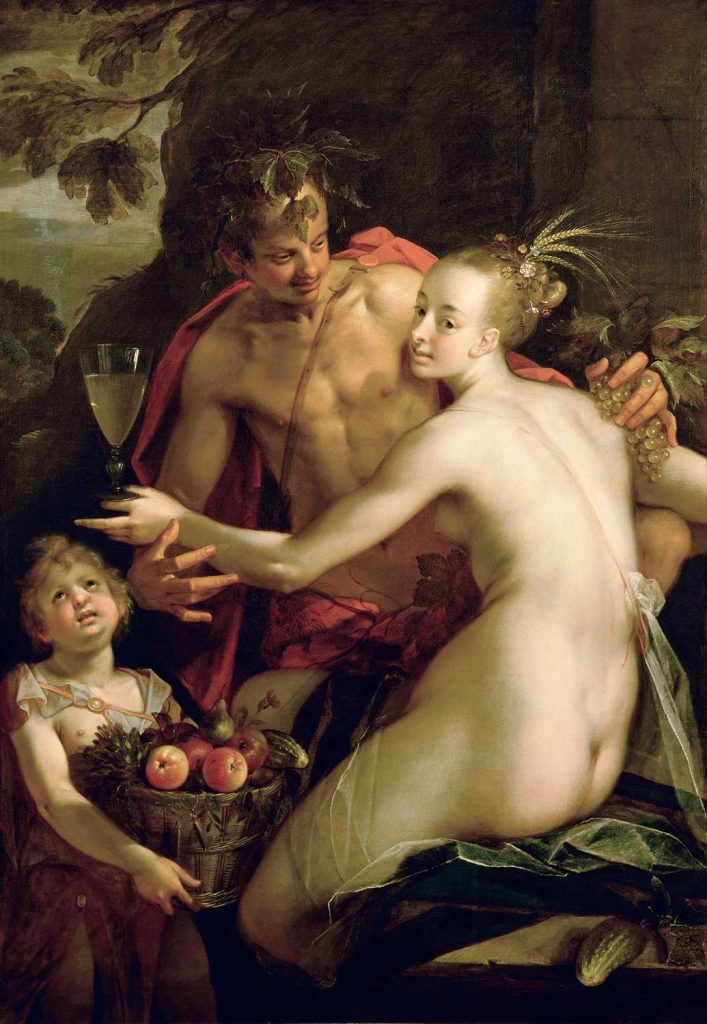 Bacchus Ceres and Cupid by Hans von Aachen was created in 1600 and the original painting is in Kunsthistorisches Museum Wien. The original size of the work is 163 x 113 cm and is made of oil on panel.
The connection between Bacchus, the god of wine, and Ceres, the goddess of crops, evokes the Terence theme "Sine Cerere et Baccho friget Venus" (Love freezes without bread and wine). Aachen lends his own or his wife's facial features to the mythological figures. The boy resembles Aachen's son. The motif could allude to the famous picture by the Greek painter Zeuxis. He painted a boy with grapes so lifelike that the birds pecked at the painted fruit.
The Artist: Hans von Aachen (1552 – 1615) was a German painter who was one of the leading representatives of Northern Mannerism. Hans von Aachen was a versatile and productive artist who worked in many genres. He was successful as a painter of princely and aristocratic portraits, and further painted religious, mythological and allegorical subjects. He was active as a copyist and worked in the workshop of the Flemish painter and art dealer Gaspar Rem who was a native of Antwerp. Rem arranged for von Aachen to go through an apprenticeship with an artist referred to as Morett.
---
This painting presented as Art Print on Canvas