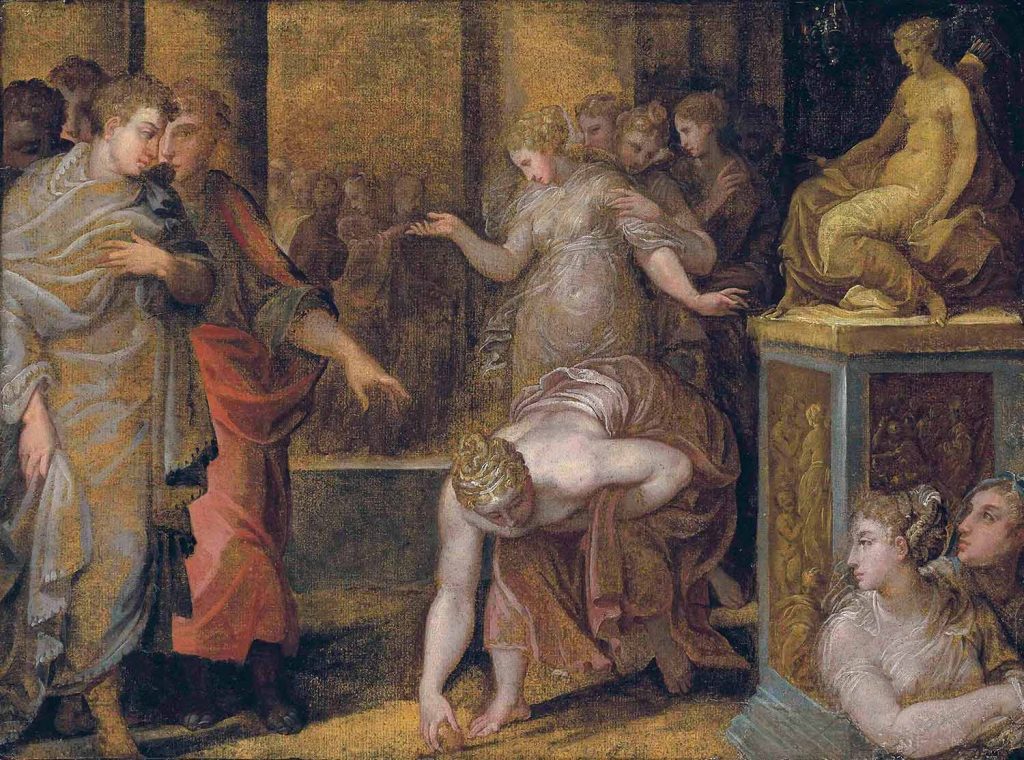 Atalanta Picking Up The Golden Apple by Niccolo dell'Abbate is in private collection. The size of the work is 29,5 x 39,4 cm and is made of oil on cardboard.
About The Artist: Niccolò dell'Abbate, (1512 – 1571) was a Mannerist Italian painter in fresco and oils. He was of the Emilian school, and was part of the team of artists called the School of Fontainebleau that introduced the Italianate Renaissance to France. He trained together with Alberto Fontana in the studio of Antonio Begarelli, a local Modenese sculptor; early influences included Ferrarese painters such as Garofalo and Dosso Dossi.
His style was modified by exposure to Correggio and Parmigianino, when he moved to Bologna in 1547. In Bologna, most of his painting depicted elaborate landscapes and aristocratic genre scenes of hunting and courtly loves, often paralleled in mythologic narratives. It was during this time that he decorated the Palazzo Poggi, and executed a cycle of frescoes illustrating Orlando Furioso in the ducal palace at Sassuolo, near Modena. In 1552, Niccolò moved to France, where he worked at the royal Château de Fontainebleau as a member of the decorating team under the direction of Francesco Primaticcio. Niccolò is best known for his mythological landscape subjects, which introduced the Flemish world landscape into French art.
---
This painting presented as Art Print on Canvas

---