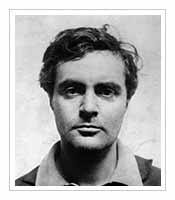 Amedeo Modigliani (1884 – 1920)
Italian painter and sculptor Amedeo Modigliani was born in Livorno. Modigliani worked in Micheli's Art School from 1898 to 1900. Here his earliest formal artistic instruction took place in an atmosphere steeped in a study of the styles and themes of 19th-century Italian art. In his earliest Parisian work, traces of this influence, and that of his studies of Renaissance art, can still be seen. His nascent work was influenced by such Parisian artists as Giovanni Boldini and Toulouse-Lautrec.
In 1902, Modigliani continued what was to be a lifelong infatuation with life drawing, enrolling in the Scuola Libera di Nudo, or "Free School of Nude Studies", of the Accademia di Belle Arti in Florence. A year later, while still suffering from tuberculosis, he moved to Venice, where he registered to study at the Regia Accademia ed Istituto di Belle Arti.
In 1906, Modigliani moved to Paris, then the focal point of the avant-garde. Within a year of arriving in Paris, however, his demeanour and reputation had changed dramatically. He transformed himself from a dapper academician artist into a sort of prince of vagabonds. During his early years in Paris, Modigliani worked at a furious pace. He was constantly sketching, making as many as a hundred drawings a day.
The Paris show of 1917 was Modigliani's only solo exhibition during his life, and is "notorious" in modern art history for its sensational public reception and the attendant issues of obscenity. Although he continued to paint, Modigliani's health deteriorated rapidly, and his alcohol-induced blackouts became more frequent. The linear form of African sculpture and the depictive humanism of the figurative Renaissance painters informed his work.
---
---
References;
---