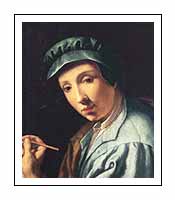 Alessandro Allori (1535 – 1607)
Italian portrait painter of the late Mannerist Florentine school Alessandro Allori was born in Florence. He trained in art by a close friend, the mannerist painter Agnolo Bronzino. Allori is the last of the line of prominent Florentine painters, of generally undiluted Tuscan artistic heritage. Subsequent generations in the city would be strongly influenced by the tide of Baroque styles pre-eminent in other parts of Italy.
Allori also did a number of important works for members of the Salviati family, including mythological scenes for Alamanno Salviati's villa near Florence. his style was more naturalistic and Baroque than that of his father. He produced various types of work, but he is remembered primarily for one picture, Judith with the Head of Holofernes (c.1615, Pitti, Florence, and other versions), which in the 18th and 19th centuries was one of the most famous paintings in Italy.
While by 1600 the Baroque elsewhere was beginning to give life to painted figures, Florence was painting two-dimensional statues. Furthermore, in general, with the exception of the Counter-Maniera (Counter-Mannerism) artists, it dared not stray from high themes or stray into high emotion.
Allori was one of the artists, working under Vasari, included in the decoration of the Studiolo of Francesco I.
---
---
References;
---