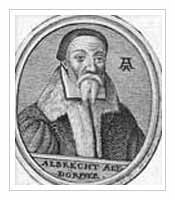 Albrecht Altdorfer (1480 – 1538)
The German Renaissance painter Albrecht Altdorfer was born in Regensburg in 1480. He started giving his first works since 1506. Altdorfer is the principal representative of the Danube school. He is the first European painter to treat Landscape painting as a separate species. Beginning with his first works, he found intuitive harmony between landscape and figures in terms of color. the Passion of Christ (1511, Sankt Florian) is the first work in which he uses lighting games to create a dramatic atmosphere.
In "The Birth of Virgin" (1520, Munich, Alte Pinakothek) the landscape and architecture play an even more important role without disturbing the privacy of the subject. Altdorfer's most admirable work, The Battle of Alexander at Issus painting (1529, Munich), seems to have flashed the colorful genius of the artist, from a viewpoint that shows the end of the world. The "Lut and the Girls" chart (1537, Vienna, Kunsthistorisches Museum) can be considered a masterpiece of renaissance with the importance given to the human body.
Altdorfer was the pioneer painter of pure landscape, making them the subject of the painting, as well as compositions dominated by their landscape. These comprise much of his oeuvre. He believed that the human figure should not disrupt nature, but rather participate in it or imitate its natural processes.
Altdorfer often distorts perspective to subtle effect. His donor figures are often painted completely out of scale with the main scene, as in paintings of the previous centuries. He also painted some portraits; overall his painted oeuvre was not large. In his later works, Altdorfer moved more towards mannerism and began to depict the human form to the conformity of the Italian model, as well as dominate the picture with frank colors.
---
---
---