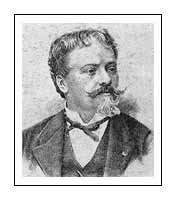 Alberto Pasini (1826 – 1899)
Italian painter Alberto Pasini was born in Busseto. He is best known for depicting Orientalist subjects in a late-Romantic style. At the age of 17 years, in the Academy of Fine Art of Parma. He studied landscape painting and drawing. By 1852, he exhibited a series of thirty designs, made into lithographs, depicting various castles around Piacenza, Lunigiana and Parma.
In 1853 his lithograph of The Evening gained him admittance to the Paris Salon, and to the workshop of the famous Théodore Chassériau. The eruption of the Crimean War offered a new opportunity, when in February 1855, this latter painter recommended Pasini to replace him on the entourage of the French plenipotentiary minister Nicolas Prosper Bourée to Persia. Pasini accompanied him, returning through the north of Persia and Armenia before reaching the port of Trebizond. In subsequent trips, he visited Egypt, the Red Sea, Arabia, Istanbul, and Persia. Pasini parlayed his exposures during this trip into numerous highly detailed paintings of orientalist subjects.
He left again for Istanbul in October 1867, summoned by the French Ambassador Bourée. He returned to Turkey in 1876 to execute the four paintings commissioned by Sultan Abdul Aziz. He was about to return to Istanbul the next year, when his patron, the Sultan, died.
---
---
References
---