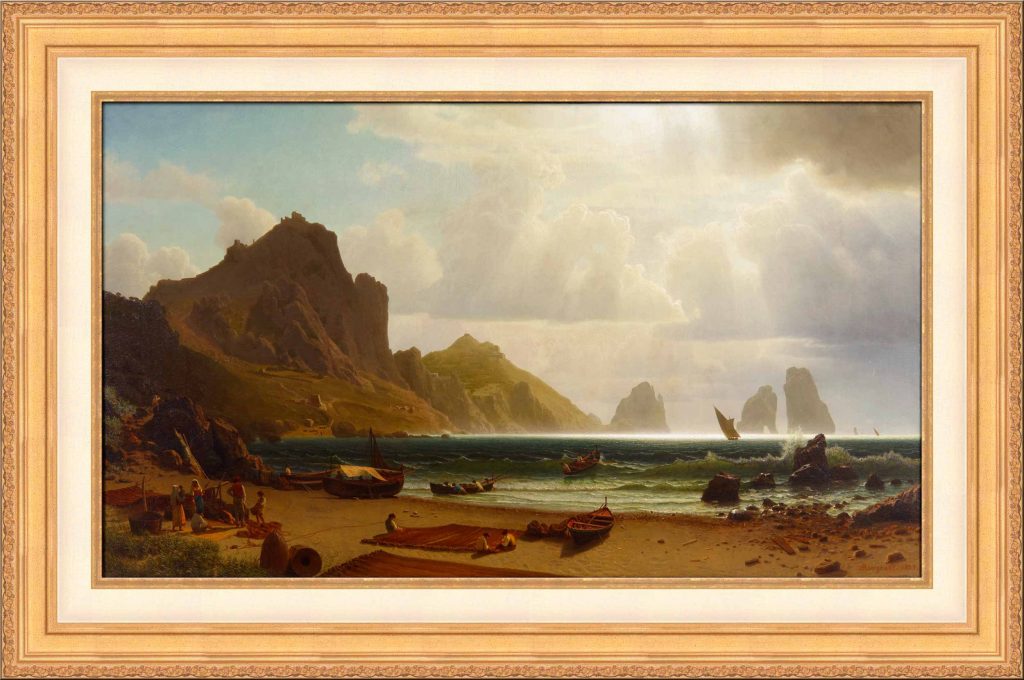 Albert Bierstadt The Marina Piccola Capri
Date: 1859
Technic: Oil on canvas
Dimensions: 107 x 183 cm (42 x 72 in.)
Location: Albright-Knox Art Gallery, Buffalo, New York
Art Movement: Hudson River School
This painting presented as Art Print on Canvas

Albert Bierstadt made several paintings based on his European sketches after returning to New Bedford, including scenes of Capri, the Bay of Naples, and Salerno, which he had visited with San-ford Robinson Gifford in the spring and early summer of 1857. The Marina Piccola is perhaps Bierstadt's finest, and most personal, realization of southern Italian scenes. Several compositional formulas that inform his later paintings appear here, including a broad, horizontal expanse of earth in the foreground, boats (later, fallen tree trunks) that point into the picture space to emphasize depth, rugged and occasionally odd-shaped mountains that add an emotional charge, a dramatic sky, and a sun that faces the viewer.
virtual signatures
Two additional features that would later become virtual signatures of Bierstadt are present here. First, the horizon line, from which the mountains spring, is relatively low. Second, there is a space-box type of composition in which mountains box in the foreground and middle ground, severely limiting movement into depth. Vistas tend to be closed. The placement of the Faraglioni Rocks, even with the open sea around them, is an early example of this space-controlling device.
Within a few years the rocks in Bierstadt's work would grow to towering proportions, such as in the Rocky Mountain scenes. Another early painting, Logging in Bavaria, also contains elements that Bierstadt later used on a monumental scale and may help explain his later fascination with the Yosemite Valley. In that work, a narrow finger of water reaches be-tween flanking cliffs. Substitute a valley floor for the water, and we see in embryo a subsequent favorite compositional device.
the sun
In addition, the sun – which the viewer faces – is hidden from view, throwing one side of the painting into shadow while illuminating the other. Logging in Bavaria also exhibits Bierstadt's disconcerting habit of finishing one part of a work meticulously (here, the right side) while leaving another section (the left) relatively incomplete. Although the left side is obviously meant to be in shadow, it is like the background hills of Gosnold at Cuttyhunk in that it is not brought to the same degree of realization as the rest of the painting. As in Bierstadt's other works, the human figures are integrated into the landscape setting.
---